Yu ZHANG, CEO
Maverick: "I feel the need ..." Goose: "... the need for speed!"
This famous dialogue from the 1986 American action drama film, Top Gun, reminds us about the 90 minutes of pure adrenaline rush viewers experienced by the raw speed and power of the fictional MiG-28 aircraft. While the fighter jets have come a long way since the 1986 original, the blockbuster continues to inspire many individuals across the globe to pursue a career in aviation. The highly-stimulating film demonstrated the value of perseverance and teamwork over individual prowess. It was this teamwork that stirred Yu ZHANG up and inspired him to set up a team-oriented environment in which each person is motivated by a company's mission and goals.
Today that team spirit reflects in the organizational culture at his venture TopXGun Robotics—a professional drone flight control system and application solution provider, offering core components and complete machine solution services in the field of unmanned control. In collaboration with highly educated professionals having extensive experience in the UAV area, Yu has set up a team that is passionate about what it does and lives and breathes the company's vision: "Let the world have no hard drones!" Having worked in 'the trenches,' the team of expert engineers has invested tremendous efforts in the open field—regardless of the harsh weather conditions—to form a healthy and benign drone ecosystem and promote the sustainable development of the drone industry. Currently, TopXGun caters to clients in the fields of security and police, aerial mapping, logistics and transportation, pipe network inspection, agriculture and forestry plant protection, and more.
Before delving into TopXGun's ongoing initiatives—and the myriad ways in which it helps clients meet the need for innovation in the drone industry—a quick recap is in order.
The Genesis
Yu's fascination with drone technology and his eventual passage into entrepreneurship was fueled about 13 years ago. A graduate student at UIUC, he picked up a part-time job as a teaching assistant to a professor in Agricultural Economics. As part of the job, he accompanied some groups visiting agricultural farms in the US. Soon enough, Yu was hooked on the sprawling farms that utilized advanced agricultural automation tools and the state-of-the-art million-dollar John Deere giant tractors. "However, I noticed that unlike in the US, many Asian or other countries do not have farms of that size. As a result, large-size ground vehicles will not work well in terms of flexibility and cost-efficiency. There was an opportunity to augment the ag drones ecosystem in China, bringing better solutions to these markets and also a supplementary to giant players like John Deere," recalls, Yu, CEO, TopXGun Robotics.
It was a matter of time when Yu, along with seven others—five of who were his school mates from UAV institute at Nanjing University of Aeronautics and Astronautics—laid the cornerstone of TopXGun Robotics. "Similar to what DJI did in its early years, we launched autopilot as our pioneer products. However, we did not develop any consumer drones and instead expanded the business to commercial and industrial applications of UAVs," says Yu. Ever since, the company has nowhere to go but up.
since TopXGun was established. The company specializes in UAV autonomous driving and sky digital operation technology with big data and AI to serve the agtech industry in a safer, smarter, and economical way. "We embrace the vision of digital sky by providing a complete solution for a flying robot in the agricultural field," says Yu.
TopXGun has grown into a prominent industry player with a wide range of solutions for different applications and reliable tech support.
The company is established as a provider of flight controllers or autopilots, covering a broad range of use cases.
We embrace the vision of digital sky by providing a complete solution for a flying robot in the agricultural field
Creating a Digital Sky
TopXGun serves numerous top players in agriculture globally. As a toolmaker for its clients, the company offers a total drone solution with both hardware and software. Additionally, it also provides a drone cloud service licensed by CAAC. The company provides a portfolio of agricultural and forestry plant protection solutions using the new T series plant protection drones. T-series is a product line with payload from 6kg to 20kg. These are equipped with plant protection dedicated flight control and agricultural intelligent data processing platform, and dual water pump precise metering and spraying system to make plant protection operations easier and safer. While T406 is the entry-level product of this series, the company also offers T410 and T416 as the best selling models now. TopXGun's T406 plant protection UAV remolds the definition of plant protection UAV, modularizes the design components of the whole machine, and increases the daily maintenance speed by 80 percent, with a stable and reliable protection level. The UAV comes with a bee four-rotor wing layout that improves the spray width and sedimentation ability comprehensively, with a folding ratio of 4.6 times, which is convenient for transportation. The quad-rotor bee layout's spray range can be up to 4.5m at a working height of 2m. The professionally designed and tested wind field layout can effectively optimize the updraft in the spray center area. The UAV also boasts of AI fault identification and analysis with a new modular avionics system equipped with multi-sensor redundancy and designed with power signal communication to ensure flight safety. In case of any anomaly in any module of the UAV, the T406 avionics system automatically sends feedback to the pilot to remove the obstacle or repair it.
Further, the new generation T406 plant protection UAV from TopXGun is equipped with a fast-plugging medical cabinet, which supports 5-second quick plugging and unplugging. The maximum capacity of the operating medicine cabinet is 7.2L, and the standard operating size is 6kg, which can be replaced according to the actual needs of the operation. The drone is equipped with a new millimeter-wave radar, which is not affected by ambient light and dust and can perceive the farmland environment in all weather conditions. With a detection angle of 17°, the T406 plant protection UAV is equipped with digital beam synthesis technology that can identify farmland slope and canal, and effectively identify complex farmland scenes. TopXGun has carried out finite element analysis in the design stage of the whole machine such that both the fracture point and the vulnerable part were designed for quick maintenance and disassembly. In case of any failure, only the sensitive parts could be replaced quickly to continue the operation. Also, the company's professional TiA plant protection flight control conducts comprehensive optimization to the plant protection industry, dramatically improving the work efficiency and realizing the intelligent UAV plant protection operation.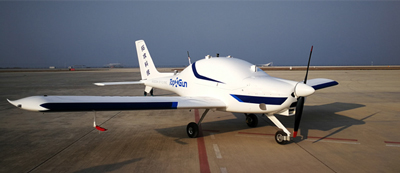 Before using the T series UAV, clients can use TopXGun's Star 05 UAV to measure and generate a high-definition map of farmland, which will be transmitted to the TopXGun cloud. This high precision encrypted farmland map can be downloaded from the cloud anytime and anywhere by using the ground station of TopXGun to generate a precise flight line. With Star 05, data acquisition can be completed by one-key operation without the need for a professional pilot, which reduces not only the operation time and the intensity of the operation but also the cost of labor. Using Star 05's multi-spectral camera, clients can easily collect high-definition images of farmland and orchard, monitor the status of pests and diseases, and build archives for the growth of crops and trees.
TopXGun also offers STAR650 with take off weight at 650KG, which is the first successful complete autonomous commercial UAV developed by a private company in China.
The people at TopXGun are our most valuable asset
"With full clearance from Chinese authority, it speaks for our strength in UAV and we are determined to make it commercially available in the very near future," says Yu. The flight range can be from 100 miles to 800 miles with payload upto 250 kg. The company is also actively looking for international partners to explore the application.
In fact, the company also plans to launch an upgraded F-series Ag drones with improved efficiency and power system. The F-series is designed to offer precise positioning and safe flight using RFK technology for positioning. The drones also offer higher efficiency in spraying with 30 percent less chemicals than manual spraying. At the same time, the drone comes with an easy set up and comprehensive training to help users independently use the drone. The F-series drones' durable and foldable design makes it easy to store and transport. What is more, the drone is equipped with advanced technology like a mobile app "Plant Protection Assistant" that provides access to operation data with useful functions including route planning, voice broadcast, field management, operation area statistics, and more.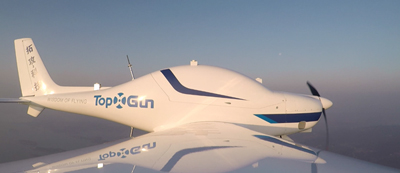 TopXGun also provides an onboard computing platform called Apollo, which is the brain of the UAV. With mighty computing power, rich interfaces, and 4G networking capabilities, Apollo simplifies the UAV application development scenarios while making UAV more efficient. TopXGun is also collaborating with Qianxun SI, a high-precision positioning service provider, to offer dynamic centimeter-level high-precision positioning capability to the end-users for realizing the standardization, autonomous and precise operation of plant protection.
Innovative Long Distance UAVs on the Cards
Being a top-notch third-party drone autopilot provider in the market gives TopXGun a competitive edge in terms of cost, optimization progress, and a variety of use cases. What lies behind the company's competitive advantage is its team of highly educated professionals and engineers who possess extensive experience in the UAV area, are passionate about the usage of drones in AgTech, and prioritize fieldwork even during the extremities. "The people at TopXGun are our most valuable asset," adds Yu.
Besides providing a total drone solution, the company is flexible to clients' requests and complies with needs. TopXGun has proven its mettle in the agricultural arena, scripting multiple customer success stories over the years. At a particular instance, the company assisted a leading agricultural machinery agency in launching a new product line for plant protection drones in the time frame of just three months. TopXGun developed products customized to meet the specific demands of the client. Every drone was equipped with a live data link, and TopXGun further helped the agency improve the whole process of product development with its cloud-based database and analytic tools. The company not only improved the client's working efficiency but also reduced their operational cost on a large scale.
Continuing to script similar success stories, TopXGun has gained unmatched know-how by serving over 1000 enterprises across the world. Yu believes the advent of SOFT drones to be the company's key differentiator in the market. With a focus on continuing with intelligent flying robotics, the company has plans to expand its products to numerous farms. TopXGun has had promising progress in both agricultural drones and heavy-duty logistic unmanned aircraft. "We plan to bring unmanned long-distance commercial flight service shortly," concludes Yu.